Scholarship
-To provide research and educational opportunities for those working to conserve our natural world.
GSVGC is one of the few clubs within The Garden Club of America who has annually sponsored a student through the GCA's Scholarship Program.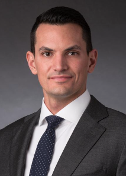 News from GCA Scholarship on November 16, 2018
Thank you! Thank you for your support of the GCA Scholarship program. Your contributions to scholarship enable scholars to realize their dreams by conducting research that is cutting edge for conservation, horticulture and environmental issues. Read about The Green Spring Valley Garden Club's 20-year legacy of support for the GCA Summer Environmental Studies Awards.
Since 1999, The Green Spring Valley Garden Club has annually funded a GCA Summer Environmental Studies Scholar. "We have met such wonderful young people who have come to tell their story. I'm very proud of my club for doing this and they have kept at it," exclaims Sarah Carey, the club member who encouraged this effort within her club, and former Chair of the Scholarship Committee.
Many of the Environmental Studies scholars have come to speak to their club, beginning with Eden Luz in 1999 whose award helped her travel to the Peruvian Andes to observe "the Effects of Transnational Agribusiness on the Indigenous Cultures." Caitlin Campbell, a recipient in 2011, became a National Park Service Ranger developing programs to attract children to national parks and public lands.
GCA SES recipient in 2007, Marshall Morales, is now an attorney in the Environmental practice group at Sidley Austin in Washington D.C. He recently contacted us to say, "...I am still grateful for it. The Garden Club of America shows outstanding leadership through its commitment to these scholarships."
Carey says that Green Spring Valley Garden Club regards their annual scholarship contribution as "seed money" for students who might otherwise never be able to pursue their passions. We want to take this opportunity to express our deep appreciation to the Green Spring Valley Garden Club for their generosity over nearly 20 years to fund GCA scholars.
More than 1,500 students have been supported by GCA Clubs and their members through the years. This effort represents a tremendous amount of research! We are deeply grateful to GCA's clubs and their members who contribute so generously to benefit education. Thank you!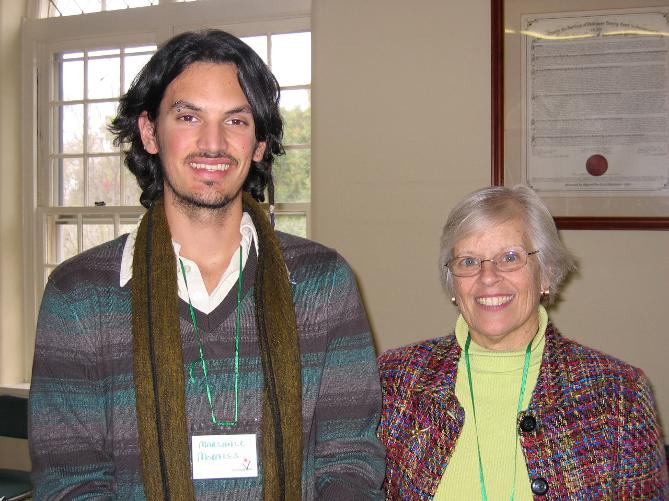 Marshal Morales with Dale Balfour in 2008 (?) after he spoke with the club about his scholarship research.
GCA Environmental Scholarship Recipients 1999-
1999 - Eden Luz, Agriculture Project in the Peruvian Andes. New College

2000 - Christine Hancock, Analyzed DNA of endangered Sierra Nevada Big Horn Sheep. Swarthmore College
2002 - Julian Dautremont-Smith, Produced guidelines for college level greenhouse emissions Inventories. Lewis and Clark College
2003 - Alexander Miller, Determined methods for collecting invertebrates living on fleshy algae. Virginia Technical University
2004 - Sarah Keller, Studies life in the Colorado Aspen woodland: birds, trees, and fungus. University of Montana
2005 - Katy Diana, Established a community organic garden at Ursinus College. Ursinus College
2006 - Brail Santilly Stephens, Studied wave attenuation and sediment transport through estuarine sea grass beds. University of West Florida
2007 - Marshall Morales, studied the permaculture movement in Oregon and Washington. Swarthmore College.

2008 - Andrew Lala, studied sustainable design practices and principles in Germany. University of Maryland.
2009 - Taher Fatakdawala, Studied clean alternative energy by harnessing photosynthetic capabilities of micro algae. Rutgers University.
2010 - Caitlin Campbell - Created programs for children at Rocky Mountain National Park, Colorado. Moravian College.
2011 - Caitlin Campbell - Environment education intern at Glacier National Park, Montana. Moravian College.

2012 -
2013 -
2014 -
2015 -
2016 -
2017 -